Gatineau Defilift 3D Body Oil 200ml & Body Brush
A beauty go-to for centuries, the properties of 'oils' have been used as both healing ailments as well as to nourish and condition the hair, skin and nails. And if this summer you are feeling that you constantly pile on the body lotion but your skin never quite feels properly hydrated then perhaps it's time to embrace a body oil.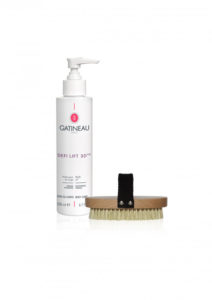 Body oils are also incredibly versatile. Not only are they the perfect formula for that 'sensory' spa-like treat, they're also great for targeting particularly dry, flaky or problematic areas.   Whilst body moisturisers often do the job, body oil feels super luxurious and can deeply nourish in a way lotions sometimes can't.
In summer, dry itchy skin can be caused by temperature change where skin is exposed more to the sun which can compromise our skin's protective barrier and suck vital moisture out.   Our skin barrier is composed of natural oils and water and is designed to help keep moisture in and impurities and toxins out as well as help your skin's natural repair process so when it becomes compromised so do we!
Enter Gatineau's Defilift 3D Body Oil and body brush collection EXCLUSIVE to BEAUTY FRESH which certainly does not disappoint and is a firm favourite duo with both salon professionals and customers.
The Defilift 3D Body Oil is SO much more than just nourishing body oil and is formulated with a potent blend of active ingredients to target multiple skin issues and problem areas. Whether you have dry, flaky and itchy skin, uneven skin tone, 'lumpy bumpy areas' or if you are just looking for that all important anti-ageing boost, Defilift 3D Body Oil certainly ticks all the boxes.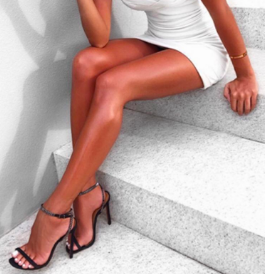 Aside from the lingering bloom of Lotus scent, the formula is power-packed with a potent blend of botanicals.  With highly restorative Grapeseed Oil, to draining and circulation boosting Ivy Extract, to skin smoothing and anti-oxidant rich Green Tea, this really is the 'Rolls Royce' of body oils.
Use Defilift 3D Body Oil once a day after showering and apply to slightly damp skin massaging in until absorbed. And to really elevate its benefits, team it with a twice weekly 'skin body brush'. Dry brushing really helps to effectively remove the build-up of dead skin cells whilst boosting the blood circulation and stimulating the release of unwanted toxins.
Trust me your skin will feel deeply nourished, supple and silky soft.  Skin will appear ageless and all those lumpy bumpy areas will look and feel smooth.
The art of Body Brushing:
Body brushing is easy and no pressure is required.
Body Brush twice a week before showering
Start at the ankles in upward movements towards the heart. This is because the lymphatic fluid flows through the body towards the heart so it's more beneficial to brush in the same direction.  Just work the brush in upward stroking movements working towards the heart in light strokes.
Give particularly dry areas and cellulite special attention, but don't scrub
Work in clockwise circular rotations over the abdomen in the direction of the digestive system