Gatineau Winter Skin Cocoon Collection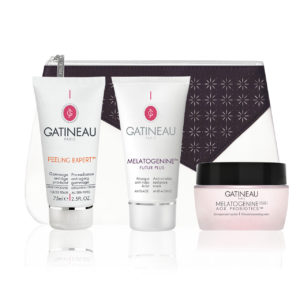 Apply the Peeling Expert Anti-ageing Gommage 2-3 times a week to a cleansed face. Massage in to the skin in circular motions and watch it buff away dead skin cells and impurities from the epidermis. Alternatively leave to set for 20 minutes and use as an intensive peel-off mask. Blended with Sweet Almond Oil to plump wrinkles, and targeted Essential Oils to nourish and improve elasticity.
Follow this with the application of our Melatogenine AOX Probiotic Cream. Treat the skin to deep hydration, whilst targeting the early signs of lines, wrinkles and reduced elasticity. A powerful combination of our youth activating molecule, Mélatogénine™ and Marine Collagen smooth and plump the skin, while powerful Anti-oxidants and Probiotics rebalance and improve the skin's natural defences.
Lastly, apply the Melatogenine Futur Plus Mask to the face, neck and eye contour to rapidly smooth away lines and wrinkles and plump the skin from within.
All products available separately or save £££ and buy the collection here: Gatineau cocoon collection