Meet one of the fantastic devices that Beauty Fresh have added to our anti-aging powerhouse! NuFACE Mini is a petite, portable and powerful microcurrent facial toning device that's FDA-cleared for facial stimulation. This natural, non-invasive solution uses microcurrent, a soft wave technology to target the core of the aging-process in order to improve facial contour, skin tone and reduce wrinkles. NuFACE Mini gently stimulates the larger surface areas of the face–such as the forehead, cheekbones, and jawline–to provide a five-minute facial-lift and help improve your appearance.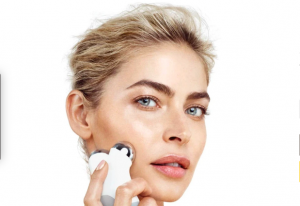 NuFACE Mini is designed for those people on-the-go with it's convenient and travel-friendly size. It comes with a re-chargeable battery and compact power adapter. You only need 5 minutes a day to achieve visible results.
The price of the NuFACE Mini is very affordable, which makes this a perfect starter solution for anyone looking for an introduction to microcurrent technology. The Mini is for all skin types and anyone wanting a cutting-edge solution to help improve their overall appearance.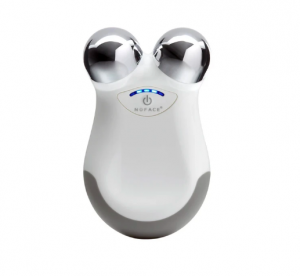 The NuFACE Mini really is microcurrent technology made simple!
3 Easy Steps
PREP: Cleanse skin with an oil-free cleanser.
LIFT: Apply the NuFACE Gel Primer in a mask-like layer so the skin appears wet. Glide the NuFACE Mini over the natural contours of the face as directed.
FINISH: Remove NuFACE primer from face and device with a damp cloth.