Tan Accelerator
We all love a bit of sun on our backs and there is nothing that makes us look and feel better than a natural sun-kissed glow! The trouble is as our skin ages, achieving that ALL OVER golden tan becomes trickier and sunbathing comes at a cost in more ways than one.  Perhaps you suffer from prickly heat, or you discover that certain areas of your body just don't tan, perhaps you are noticing darker pigmentation patches or maybe your skin just feels like an old leather boot  after sun exposure– whatever the problem is, a flawless suntan just doesn't seem that easy to pull off!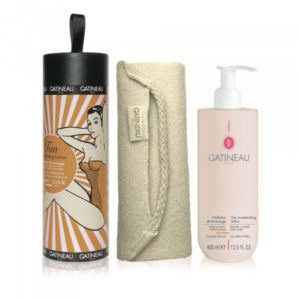 But what if I told you that you could achieve that perfect tan and your skin could look and feel super soft and smooth at the same time?  Let me introduce you to your 'new' best friend this summer – Gatineau's Tan Accelerating Lotion! Exclusive to Beauty Fresh, this is all about getting your skin 'summer ready'.
Gatineau's Tan Accelerating Lotion is a luxurious pre-holiday treatment, and tan-optimising pre-sun lotion perfect for the face and body and works by speeding up the skin's natural tanning process so that you get a bronze glow much more quickly. It is formulated with something called MAPs – these are Melanin Activating Peptides, which means they stimulate melanin production in the skin, causing the skin to look visibly tanned. However, by stimulating melanin in the skin not only do you tan more easily and evenly, but your skin is also protected from damage and discoloration. And even better there's not an inch of self-tanner in sight.
What makes our Tan Accelerating Lotion even more incredible is that it contains Gatineau's famous youth-activating molecule- Melatogenine™ which helps bring supple keratin to the skin's surface, reducing fine lines and wrinkles!  And then there's anti-oxidant rich Vanilla Pod Extract to protect the skin against external aggressions as well as regenerating Grapeseed Oil to really condition the skin and leave it silky soft and smooth.
It is best used as your daily face and body moisturiser a minimum of two weeks prior to going on holiday, then as an after-sun lotion to use when you return home to prolong your tan.  It's worth noting that it doesn't replace a sunscreen, and that you must always use an SPF while you're both in and out of the sun.
A luxurious texture, a subtle vanilla fragrance and what's more it absorbs easily & doesn't feel sticky at all – teamed with the body buffing cloth designed to lift away  dead skin cells and deep cleanse pores this has to be your 'go to' collection to achieve that all important  'stress-free' tan.