Linda Meredith V-Tox is the brilliantly unique alternative to BOTOX an unprecedented global bestseller.
V-Tox utilises a botanical algae to mimic the smoothing, line-diminishing effects of BOTOX in a natural looking way. V-Tox restores the skin's elastin, collagen and moisture levels which results in firmer, smoother and more youthful looking skin. V-Tox is the ultimate must have anti-ageing skin cream for all daily skincare routines.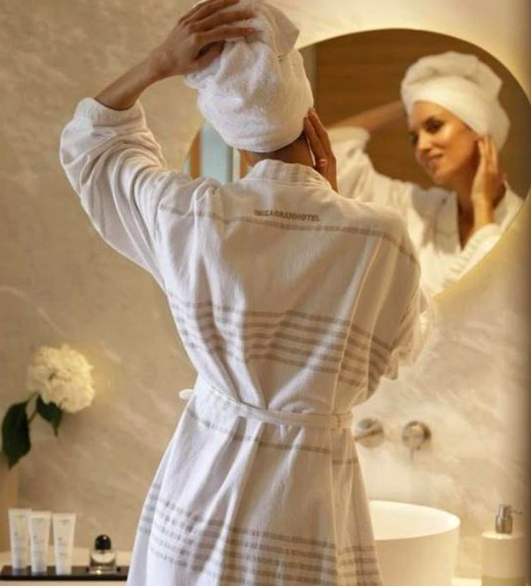 "A non-invasive alternative to BOTOX" – Tatler
The science – V-Tox mimics the effects of BOTOX by blocking the signals that make muscles contract and create frown lines. It can also be applied over the entire face and neck creating a much more natural balance to the face.
The key ingredients – Portulaca Oleracea: Incredibly High levels of Omega 3, Portulaca Oleracea contains more alpha-linolenic acid than any other leafy plant ingredient. It is an excellent source of Vitamin A, known as a powerful natural antioxidant and an essential vitamin for healthy skin.
Centella Asiatica (Gota Colu): Regarded as perhaps the most spiritual of all herbs in India. Growing predominantly in areas of the Himalayas and praised for its antibacterial, soothing and healing abilities.
Ginseng: As well as well noted historic use in Chinese and Western Medicine, Ginseng is an impressive anti-ageing ingredient. Leading medical studies have shown its effectiveness in fighting wrinkles due to ginseng's ability to boost skin-firming Collagen.
Tripeurospermum Maritimum (Sea Mayweed): Sea Mayweed regulates the sensation of discomfort and local inflammation, making sensitive skin less reactive and soothed. An immediate and long-term reduction of redness is also visible.
GABA (gamma amino Butyric acid): Is an amino acid found in plant tissue, it is directly responsible for the regulation of muscle tone. Known as an inhibitory neurotransmitter that blocks nerve impulses. Gives rise to the relaxation of the facial nerves thus reducing fine lines and wrinkles.
The perfect alternative – Pregnancy safe, Vegan friendly and Paraben Free!