Super Charged Hydration… Introducing NEW Advanced Nutrition Programme Skin Moisture IQ

Carefully calibrated and researched to help deliver the appearance of hydrated, smooth, supple and radiant skin, Skin Moisture IQ is a science-led, smart supplement system combining five capsules in daily dose pods.
Skin researchers at Advanced Nutrition Programme have calculated the specific dose of five intelligent capsules to help hydrate, support skin barrier, enhance skin comfort, improve the appearance of fine lines, wrinkles and textural irregularities. This targeted system is conveniently packaged in a 28-day supply of protective pods. F
eaturing hyaluronic acid, ceramides, omega-3 fatty acids, vitamin A, vitamin D, omega-6 fatty acids and a modern multivitamin complex.
What's inside? Each pod contains:
1 capsule of Skin Moisture Lock: patent pending combination of hyaluronic acid, ceramides and manganese
2 capsules of Skin Omegas+: pure fish oil providing omega-3 fatty acids; omega 6 fatty acids from evening primrose oil and vitamin A
Skin Vit A+: Fusion of vitamin A and vitamin D
Skin Vitality: Modern multivitamin which acts as a foundation for all skin supplements. 28 ingredients including strong co-factors of vitamins C, E, B2, B3, zinc, magnesium and more.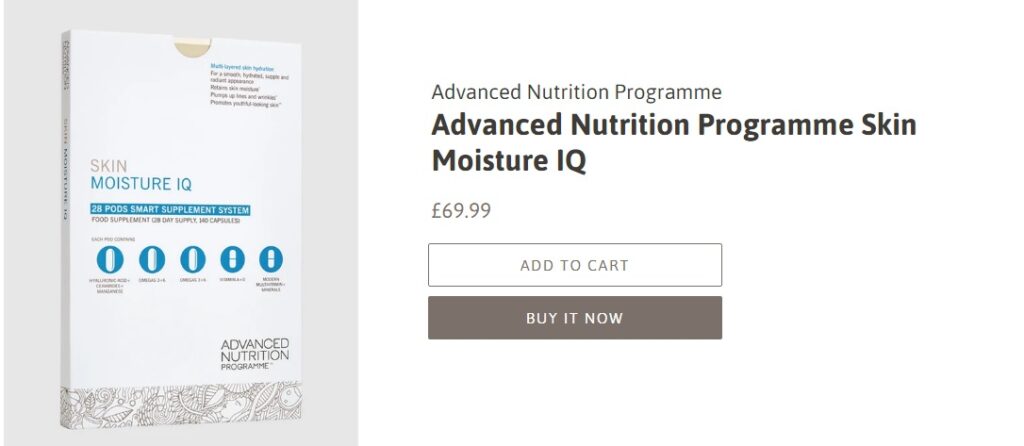 Visit Beauty Fresh to purchase your Skin Moisture IQ by Advanced Nutrition Programme