The Ultimate Men's Skincare Routine for 2020
Us men are just as susceptible to irritants, damages & skin conditions as women – yet why is our gender so underrepresented in the media? I've learned, trialled and tested some of the most popular ways to take care of skin, specifically male skin (yes everybody, it's very different to female skin) and I am blown away by some of my findings…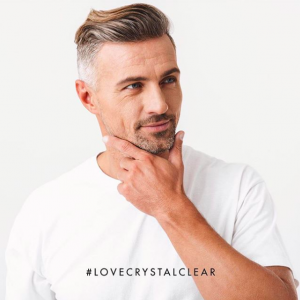 Sleep.
Sleep is probably one of the most important things that I researched with VERY clear definitive answers. When we sleep our whole body goes into a resting state, and it's not just our muscles that relax during sleep, our organs also relax and start to shut down, going into stasis.  Failure to maintain a healthy and frequent sleep pattern drives our bodies to produce more of the stress hormone Cortisol (not good!). Lack of sleep also prevents the skin from naturally repairing itself from inflammation & damage, research also suggests that this increases existing immune-related skin concerns such as psoriasis and eczema.
Regular Facial.
As innovative as skincare labelled for use at home is, it can only do so much, so if you're trying to get to a happy place with your skin OR maintain healthy looking skin, it is paramount that you pair your homecare with a professional 'in clinic' facial; the products used are of a higher potency, and the methods available in clinics simply aren't available for homecare.  As men's skin is generally around 25% thicker than female skin, it's essential to ensure that you're getting active ingredients into the deeper layers of skin.  You can do this through pain-free clinical treatments such as the 'H20 Glow' or 'Frozen Facial', which consists of a Deep Cleanse, Microdermabrasion, Micro-channelling & Cryo-Oxygen – actors such as Jude Law, Colin Firth & Celebrity MUA Mario Dedivanovic are known fans of these in-clinic treatments. I had a course of the Frozen Facial (6 treatments, 1 every 3 weeks) and my skin has truly never looked clearer, younger & more even! I now have one per month to maintain a good skin quality.
Homecare
Like anything in life, doing just one thing is not going to give you the results you're looking for. Adding a simple anti-bacterial exfoliator such as 'Crystal Clear Oxygen Face Polish' and a lightweight, mattifying moisturiser with plenty of Vitamin C, such as 'No Shine Serum' is the perfect introduction to a homecare skincare routine. Try adding a few drops of an Active Skin Booster such as 'Pollution Defence' to your moisturiser to protect from pollutants and irritants in the natural air (especially if you're working outside); this will also hydrate, reduce puffiness & actively anti-age your skin throughout the day. Consistency is key and I found that after 21 days, I really started noticing the difference!
Ditch the Shaving Foam!
Shaving Foam is historically known to dry out the skin as it can contain a selection of irritating ingredients such as Butylated Hydroxtoluene: BHT for short. This nasty preservative is one of the most toxic chemicals on the shelves and is linked to a number of negative side-effects, including skin irritation. Shaving foams can also contain Mineral Oils which can clog pores, cause inflammation and trigger acne breakouts.  Reduce shaving rash & skin inflammation by switching your Shaving Foam out for our smooth and gentle 'Soothing Cleansing Gel' and up your Shaving Game! The ingredients and the consistency creates a moisture-rich barrier against a dragging razorblade. Shaving foam, despite its fluffy texture, does not provide quite the same level of protecting lubricant for your skin!
Water
Drinking the recommended daily amount of water sometimes seems impossible; tie that in with work, the gym, seeing mates and a good night's sleep and we're left with very little time! But I wanted to really put this to the test so I decided I would attack really trying to get as much water intake as possible. I would wake up and have 500ml of cold water straight away, then make sure I drank 1L of water whilst I was sat at my desk throughout the day and then on the drive home again finish another 500ml of cold water.  I did this for 10 days and I was truly blown away by the results; my skin appeared clearer and much more hydrated and when I woke up in the mornings I was A LOT less puffy. What really surprised me however, was how much more energy I had at the gym, I wasn't getting cramp, and I seemed to have a lot more strength… had I found the secret behind protein shakes? Was it actually the water over the powder that was boosting my energy levels? Now I imagine I will never be totally clear on what was fuelling me but overall, the increase in water intake has genuinely benefitted my life in multiple areas – the Water is here to stay!