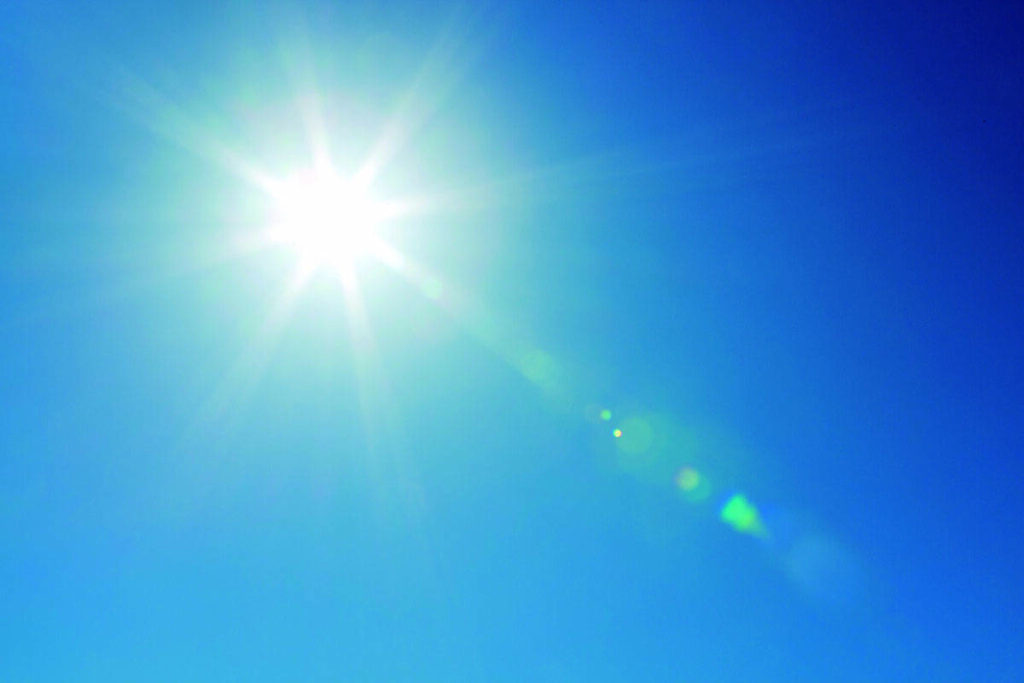 What is the best face tanning product? Who makes the best face cream sun protection? The best products, brands and which sun protection to use on your face is discussed this 2021 here @BeautyFresh and comes down to a top 5 list of the top 5 SPF face protection creams available online.
Do not expose your skin to the sun for long periods and stay out of the sun between 12 PM and 4 PM. Does not offer 100% protection. Sun over-exposure is a serious threat for your health.
Top 5 SPF Face Protection/ Tanning Products
1. Phyt'solaire Creme Protectrice SPF 30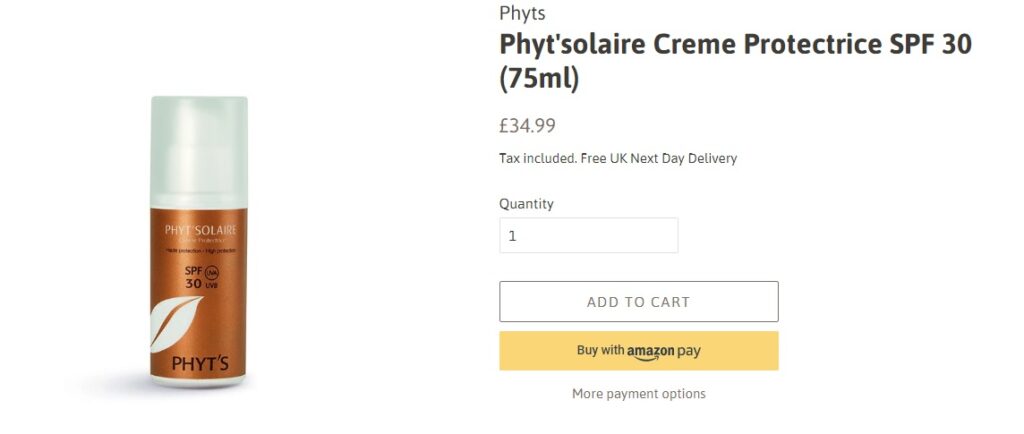 Protection UVB 30 – UVA, Provides high anti-UVA-UVB protection. Fluid texture with convenient application, leaving no white marks. Rich in vegetal vitamin E, also anti ageing.
Phyt'solaire Creme Protectrice SPF 30
2. Gatineau Perfection Ultime Daily Urban UV Shield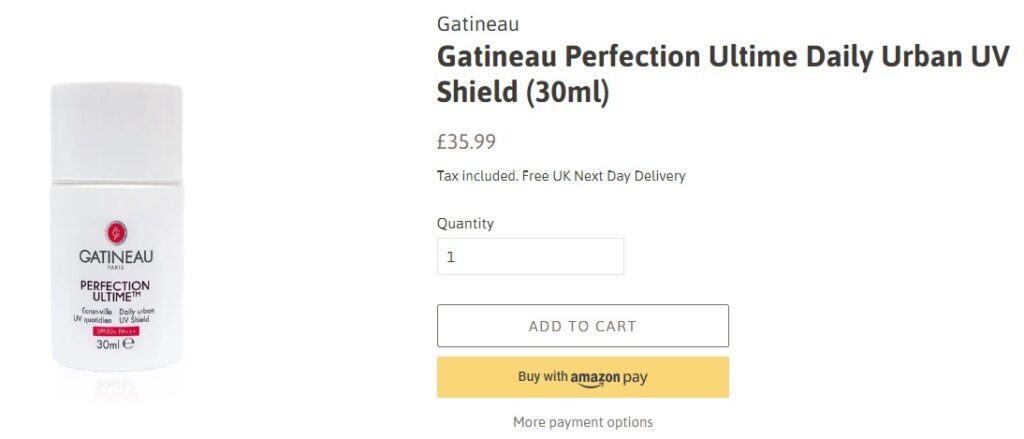 A lightweight daily shield to strengthen, defend and protect skin from the ageing effects of UV, pollution and blue light damage without clogging pores. A broad-spectrum, antioxidant rich daily SPF50+ with a non-greasy, silky texture that feels weightless on the skin. Suitable for all skin tones it absorbs quickly leaving a naturally luminous finish. The innovative smoothing formula forms a protective layer against the damaging rays of the sun and environmental aggressors. Skin is protected and hydrated, imperfections are blurred and the complexion appears brighter and more even.
SPF50+ – the highest protection against UVB, the rays that burn the skin & PA+++ – very high protection against UVA, the rays that can cause permanent damage and accelerated ageing.
Gatineau Perfection Ultime Daily Urban UV Shield
3. Matis Reponse Soleil Sun Protection Cream for Face SPF50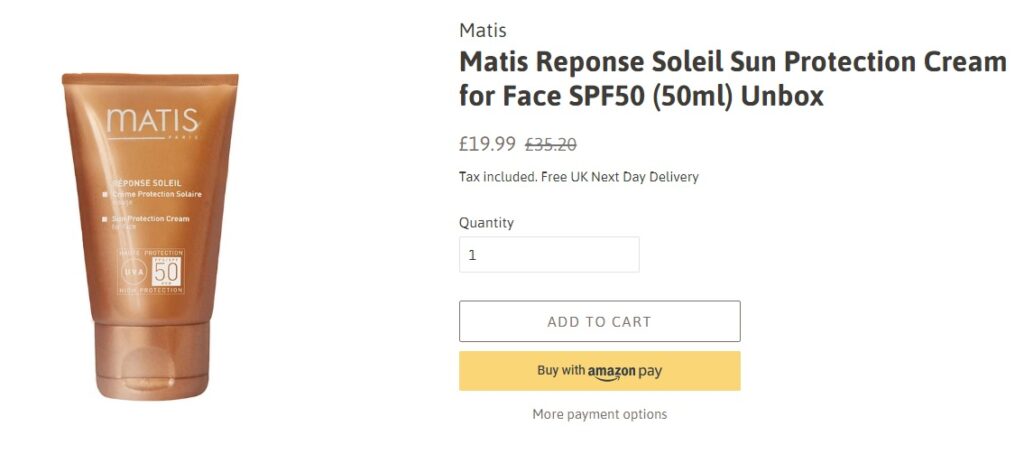 Formulated to protect against UVA and UVB rays, Matis Reponse Soleil Sun Protection Cream for Face SPF50 makes exposure less of a worry. Developed for fair skin, it is also an important ally for the first few days of exposure and during extremely sunny spells.
The results: The most sun-sensitive and overexposed areas of the body are protected and tanning is perfectly even.
Directions: Remember to protect your most sensitive areas, such as your cleavage, the soles of your feet, behind your knees, and so on. Reapply Matis Reponse Soleil Sun Protection Cream for Face SPF50 frequently. Make your tan last longer with the After Sun Soothing Milk for the face and body.
Matis Reponse Soleil Sun Protection Cream for Face SPF50
4. Decléor Aloe Vera Sun Face Cream SPF 50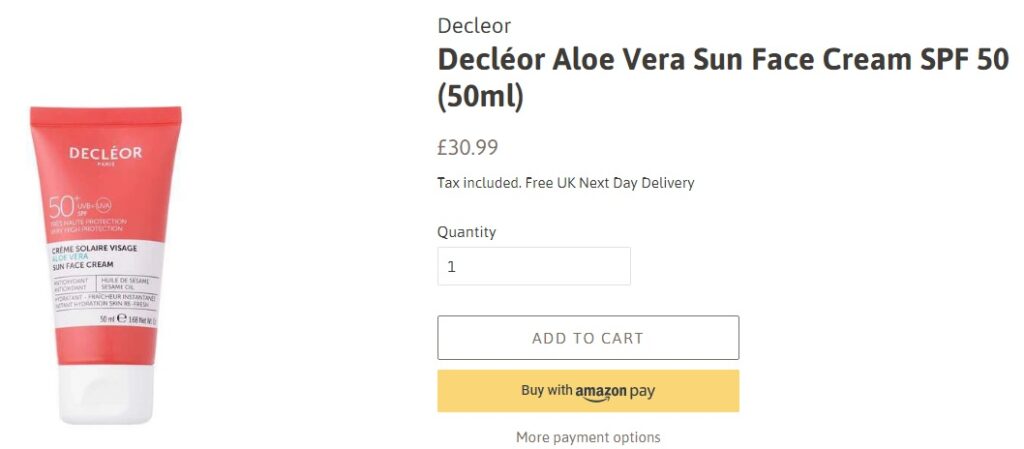 An easy to apply sun cream for the face, enriched with Aloe Vera, Sesame and Macadamia oils to leave the skin feeling nourished and hydrated.
The formula with UVA and UVB filters works instantly to protect the skin, providing SPF 50+ protection from the harmful effects of the sun. The skin is left feeling hydrated all day with an instant feeling of freshness.
Directions For Use: Apply to the palms of your hands, then using circular motions apply to face and décolleté. Apply at least 15 minutes before you go into the sun. Re-apply every 2 hours, avoid the sun in the middle of the day.
Decléor Aloe Vera Sun Face Cream SPF 50
5. Teoxane Advanced Perfecting Shield SPF30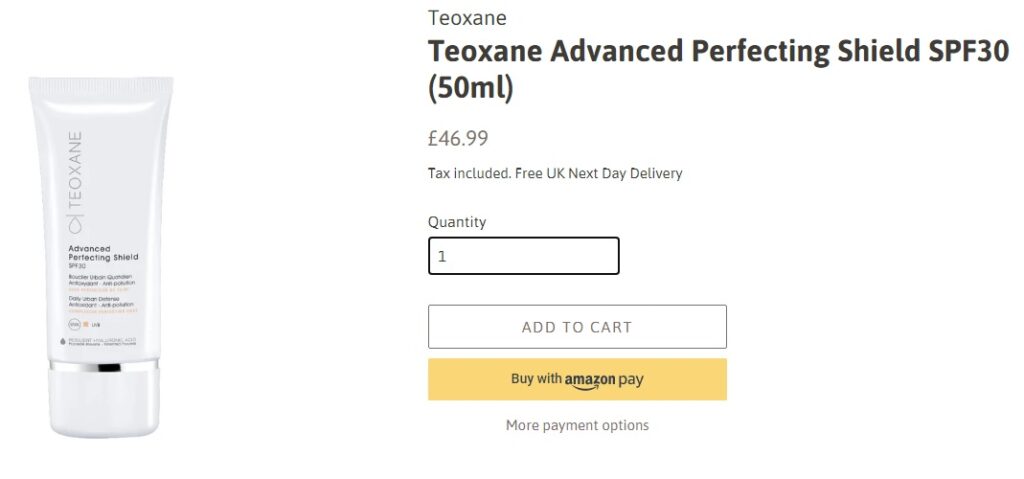 Teoxane Advanced Perfecting Shield SPF30 protects and nourishes the skin and is designed to keep skin healthy, radiant and youthful. The SPF works on four levels to hydrate, offer advanced protection, revitalise and restructure in one, leaving skin protected.
Teoxane Advanced Perfecting Shield contains the patented Resilient Hyaluronic Acid (RHA) – skin is deeply hydrated, plumped and firmed. A blend of amino acids and collagen boosting peptides work down at a cellular level, restructuring skin and helping to improve and prevent the appearance of fine lines and wrinkles, while state-of-the-art compounds provide skin with antioxidant and high level UV protection. The addition of tinted, light reflecting pigments help to a create a smoother, more even and radiant complexion or make up base.
Benefits of Teoxane Advanced Perfecting Shield SPF 30 include – A multi-purpose anti-ageing face cream, Hyaluronic Acid plumps and hydrates, SPF 30 and antioxidants protect against sun and environmental damage, Tinted pigments create a smooth, radiant base, Can be used under make up for additional coverage
How to use: Apply an even layer of Advanced Perfecting Shield to cleansed skin every morning. For best results, apply after the Teoxane RHA Serum. Can be followed by make up if additional coverage is desired.
Key ingredients and properties:
– RHA™ (Resilient Hyaluronic Acid) hydrates lastingly and strengthens the skin barrier.
– Boosted Dermo-Restructuring Complex + Carcinine revitalize and protect from antioxidants and glycation.
– NovHyal restructures the skin by stimulating the production of body own Hyaluronic Acid.
– Matrixyl 3000 stimulates collagen synthesis.
– Anti-wrinkle peptides have a preventive effect on collagen degradation.
– Potentiated Hyaluronic Acid and Sodium PCA hydrate in depth and plump the skin.
– Dipotassium Glycyrrhizinate soothes and diminishes redness.
– Yellow and red pigments and soft focus unify and give the skin a radiant and slightly tinted look.
– A selection of 6 UV Filters protect the skin from harmful UV rays (please note that SPF 30 offers 97% protection, while SPF 50 offers 98%)
Teoxane Advanced Perfecting Shield SPF30
These face tanning and sun protection products represent the best choice for 2021 customers looking for face protection or self tan from brands which they know and love. For more tanning products and travel essentials check out the main BeautyFresh site.