Use the power of vitamins to revitalise the skin and give it back its natural glow. Matis Reponse Vitalite was designed to do exactly that, with a complex of vitamins A, C and E present in the formula of every product in this line.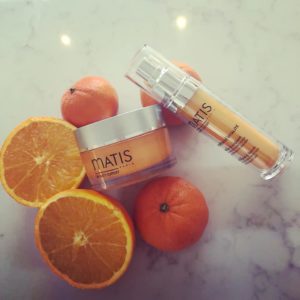 Vitamin A is recognised in dermatology for its repairing power on skin damage. In skincare, it stimulates collagen production and helps improve skin texture and elasticity. Additionally, it helps reduce wrinkles, fine lines as well as pigmentation spots. Boosting skin cell renewal, vitamin A improves mature skin conditions, in which cell renewal is slowed down.
Vitamin C is another skincare super star. It offers great antioxidant action that helps to production of free radicals responsible for premature skin aging. It also contributes to the production of collagen and regulates the production of melanin. Gives energy and radiance to the skin.
Vitamin E is also an antioxidant that protects cell membranes from free radicals' destructive actions. It slows down skin aging whilst also strengthening skin barrier function and therefore protecting the skin's hydration reserves.
Start with the cleansing of your skin with the Vitalite Energising Cleansing Emulsion. This cleanser awakens the skin by gently removing all make-up and other impurities leaving the complexion luminous and revived. Complete the cleansing with the Vitalite Energising Lotion, a tonic spray which refreshes and stimulates the skin whilst boosting its radiance. You can take advantage of our amazing Reponse Vitalite Duo offer which gives both of the above products in a 400ml packaging at a great price!
For an intense revitalising action, apply the Vitalite Energising Serum or the Regenerating Serum.  The Energising Serum boosts in depth dull and stressed skin. It helps protect the skin from urban stress and regain its energy. For an extra energising boost, pair this serum with the Vitalite Energising Cream. It contains Peph-Active, an innovative plankton-based skin energiser that promotes cell renewal and improves the skin's appearance.
The Regenerating Serum contains White Lupine which reinforces the natural restructuring systems of the skin and restores its barrier function. It helps strengthen the skin, whilst protecting and revitalising it. Enhance the serum's action with the Vitalite Regenerating Cream which rebuilds the skin whilst bringing comfort.
To ensure a better penetration of the line's active ingredients, it's beneficial to exfoliate your skin once or twice a week with the Vitalite Energising Scrub. This is a gentle face exfoliator which removes dead cells as a result of a micro-pearls mechanical action.
In order to amplify the benefits of the vitaminic complex, you can apply once or twice a week the popular Vitalite Energising Mask. This fabulous product has a silky, pearlescent gel texture, a beautiful fragrance and is enriched with the MATIS Captozone complex which neutralises ozone molecules to preserve the vitality of the skin and revive the radiance of the complexion.
A super-food for your skin in a complete skincare ritual!