Bring radiance and youthfulness back to the eye contour with MATIS.
GLOBAL-EYES: EYE GLOBAL REPAIRING TREATMENT (15ml)
As its name indicates, this universal treatment will act on all the eye contour's problems. It fights against wrinkles, puffiness, dark circles and sagging all at once. It is mainly intended for people over 35, but can be used as prevention from 25 years old, the age at which signs of fatigue no longer fully disappear after a good night's sleep.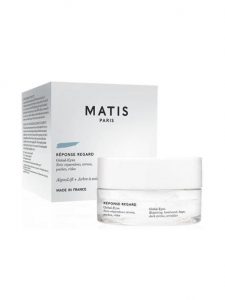 Biotechnological active ingredients. Like all MATIS treatments, GLOBAL-EYES combines what is currently best in terms of effective active ingredients for the eye contour area:
Matrikines these peptide fragments stimulate the fibroblasts of the extracellular matrix. A synthesis of collagen, fibronectin and glycosaminoglycans repairs the ECM and fills in deep wrinkles through a total reprogramming of cellular activity.
Algolift is composed of two elements of marine origin: seawater enriched with energizing metabolites, which stimulates the ATP synthesis, and a high molecular weight oligo-alginate that protects the skin. The combination enables the fibroblasts contraction and the tightening of the structure of collagen, thus fighting against sagging skin and the wrinkles formation.
Silk tree, as for it, reduces the glucose self-oxidation, as well as its glycation with a protein, two phenomena that tend to accentuate the formation of dark circles and puffiness.
Matcha tea plant water, obtained by hydro-distillation, particularly rich in epigallocatechin (EGCG) and other antioxidant polyphenols, caffeine, vitamins C and E, stimulates local skin microcirculation to reduce bags and dark circles and prevent the aging of this fragile area. At the same time, its high content of theanine, with relaxing properties, smoothes the entire eye contour.
Clear results. According to a clinical study carried out a dermatologist on 22 women between 41 and 65 years of age:
After 7 days of application, eyes are brighter, dark circles softened and bags reduced for 73% of them.
After 28 days of application, eyelids are lifted for 55% of them, the eye contour is smoothed and dark circles are reduced by 82%, puffiness are decongested for 86%, lines and wrinkles are less pronounced for 83%. More than half of the women decided to buy the product immediately.
High-effectiveness protocol. Obviously, to promote lymphatic drainage slowed down in this sensitive area, the invigorating and comforting texture of GLOBAL-EYES is ultra-fine, ultra-fresh and with optimized absorption efficiency. It is also fragrance-free to avoid eye irritation. Apply morning and/or evening to the eye contour. Gently massage from the inner corner of the eye. End with light taps using the fingertips.
HYALUSHOT-EYES: HIGH IMPREGNATION BIOCELLULOSE MASK.
As a complement to GLOBAL-EYES, HYALUSHOT-EYES makes it possible to reinforce and harness the potential of the eyes benefits.
Of Asian origin, the biocellulose mask – more effective that a sheet mask – was reserved for use in beauty salons. Now, it will finally be use at home. Bio-compatible with the epidermis, it offers greater occlusion capacity and thus greater diffusion of the active ingredients. Its stretchable nature allows it to perfectly mould itself to the contours of the face, acting as a 'second skin'. Today, this travel mask can be taken everywhere to deliver a deep treatment anytime that will smooth out the eye contour area and reduce dark circles, whether at home, on weekend trips or away on vacation. It is intended primarily for women between 30 and 50 years of age, regardless of skin type, but can of course be used by women under 30 years old and over 50.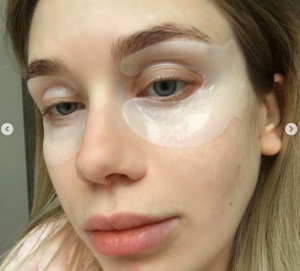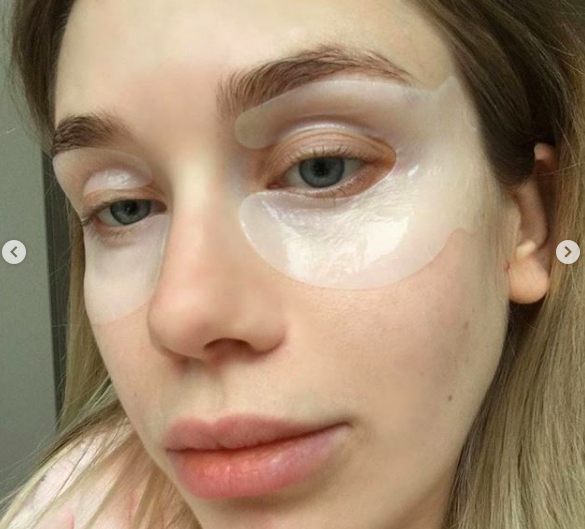 A real infusion of youthfulness for the eyes. HYALUSHOT-EYES acts as both a support and a serum. It's the combination of pre-impregnated biocellulose with a 90% natural, anti-aging active serum that makes the difference:
Biocellulose support. 100% natural, 100% biodegradable, 100% bio-compatible, it offers maximum occlusion of the cutaneous surface for better penetration and diffusion of the active ingredients. It was initially developed in reconstructive surgery to heal the wounds of serious burn victims. Its Nano 3D structure adheres perfectly to the skin and its extreme fineness means that it moulds to the inside of the wrinkle to release the active ingredients right inside the fold. At the same time, the biocellulose, obtained by natural fermentation, retains up to 100 times its weight in water. Its high tolerance makes it a choice mask for sensitive skin. Its flexible and resistant membrane remains in place even when you are standing up and moving around.
The active serum (each pair of patches contains 10ml of serum), meanwhile, contains:
Plant hyaluronic acid bomb. Totally safe, perfectly bio-compatible and causing no allergies, this glycosaminoglycan, naturally present in the skin-is today aesthetic medicine's benchmark active ingredient for filling wrinkles. It can absorb 1000 times its weight in water, which gives it a considerable plumping powder, in addition, to being an excellent anti-inflammatory. At the age of 50, it is estimated that we have already lost 50% of our hyaluronic acid capital. Its molecular weight is, in this case, between 1000 and 1800 kDa, for better penetration into the depth of the skin.
Clarifying arbutin. Well known for its depigmentation action, especially on spots, it inhibits the formation of melanin. This natural active ingredient found notably in the Bearberry, will lighten dark circles faster and without the drawbacks (depigmentation or irritation) of active ingredients such as hydroquinone or kojic acid.
Allantoin. It strengthens the skin barrier and improves the skin's ability to retain water to smooth the eye contour. Thanks to its keratolytic action, it lightly exfoliates, accelerates cellular renewal and restores radiance, without any irritating effects, of course. Dark circles are lightened and the eyelids are smoothed.
The patch's shape. Its original shape, designed to perfectly mould to the entire eye aera, envelops crow's feet, the upper eyelid to the eyebrow and the lower eyelid encompassing any puffiness and dark circles.
Impressive, immediate results. According to a clinical study carried out by a dermatologist on 22 women between 41 and 65 years old: From the first application, lines and wrinkles are smoothed for 83% of women, dark circles are less pronounced for 87% with significantly decreased colour for 83%, eyelids are lifted-up and bags are decongested for 87%.
Protocol to follow. This 3D structure perfectly moulds the eye area for a fresh and pleasant second-skin effect. Just open the single-dose sachet, unfold the patches and remove the protective film. Apply to clean, dry skin before removing the second protective film. Leave to penetrate for 15 to 20 minutes. Remove the patches and let the excess product be absorbed. Do not rinse off.
Can be used occasionally before a special event or intensive treatment, several days in a row for an anti-fatigue booster effect.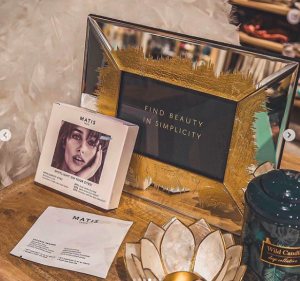 GLOBAL-EYES & HYALUSHOT-EYES: INCREASED EFFECTIVENESS
An even more recent clinical study, carried out by combining the use of the two REPONSE REGARD star products, yields surprising results that demonstrate their perfect synergy. A bit like an overall anti-aging injection for the eyes.
The GLOBAL-EYES skincare combination (morning and evening) and the HYALUSHOT-EYES mask (twice a week) help boost results around the eyes:
After 7 days: eyelids are enhanced by 83% (vs 55% with GLOBAL-EYES alone)
After 28 days of use: dark circles softened by 91% (vs 82% with GLOBAL-EYES alone) puffiness are reduced by 96% (vs 86% with GLOBAL-EYES alone).