The winter months can play real havoc with the skin both on the face and body and cause things to dry out very rapidly triggering these areas to become dry, flaky, lacklustre and visibly wrinkled!  Most of us adjust our facial skincare regimes to compensate in the change of climate but for some reason it just seems easier to skip out on body care and neglect this area entirely!  Hidden behind wooly jumpers and fleecy joggers it is a case of 'out of sight out of mind!' when it comes to the skin on the body.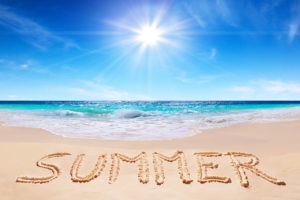 And there are unexpected areas of the body that really do suffer – like the delicate skin on the  hands which are actually really prone to severe damage both from the sun, the consistent hand washing, the use of cleaning chemicals on a daily basis, and general neglect. And then there are the delicate areas of the body like the backs of the arms, elbows and knees amongst other areas which get buried under layers of clothing for months impeding cellular renewal, preventing essential skin oxygenation and causing vital loss of moisture resulting in skin quite often looking like a Tyrannosaurus rex – in other words covered in scales!
And not one of these delicate and neglected zones of the body will be prepared for the summer sun and for t-shirts, shorts or swimwear unless they are given some proper TLC and consideration.
So thank goodness for Gatineau's 'Summer Saviour Collection' EXCLUSIVE to Beauty Fresh and boasting no less than 3 supersize hero body products, AHA Body Lotion, Tan Accelerating Lotion and Vitamina Hand Cream, and trust me this collection will be your 'Knight in shining armour' this summer!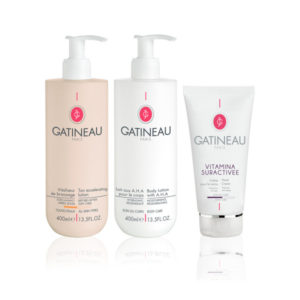 Let's start with our once a day 'salon formula' AHA Body Lotion.  This incredibly lightweight yet high intensity body moisturiser is overflowing with skin loving ingredients and designed to target a multitude of problems to restore beautiful and glowing skin.   Containing precious AHA's (Alpha Hydroxy Acids) from Citrus and Passionfruit, which were discovered over three decades ago in the skincare industry for their multiple benefits on the skin,  they have a unique non-abrasive ability to provide the skin with a smooth, soft and even skin texture whilst gently buffing away dead skin cells.  (It's like an exfoliator and intense body lotion all at the same time). And with the addition of Shea Butter and Sunflower Seed Oil, a super source of essential fatty acids and Vitamin A, it's no wonder AHA Body Lotion can treat all types of skin conditions and leave skin feeling so velvety soft.  And what I love best about this body lotion is that it is fast absorbing and non-greasy so there is none of this 'hanging around' waiting to dry and your skin is left glazed with a beautiful yet delicate floral scent.
We have teamed this with our anti-ageing Vitamina Hand Cream which could be described as an intensive serum that makes your hands feel like they have been encased in an 'exquisite' silk glove! Crammed with a luscious cocktail of vital skin nourishing vitamins and trace elements, Vitamins A,C,E &F and then blended with Hydrolyzed Collagen and Citrus Extracts it really does deliver a unique triple action to target age spots, loose crepy skin and dry and rough hands.
And then the last in the 'Trilogy' of this incredible collection is Gatineau's Tan Accelerating Lotion which is one of our top-rated body moisturisers but with a BIG difference!  This beautifully refreshing body cream has a triple action formula to help prepare, boost and prolong tanning before and after sun. Once absorbed by the skin it helps to develop a faster yet natural and even tan and with an advanced performance 'melanin production activator' it provides a natural self-protection. This is such a versatile body moisturiser as it hydrates the skin, it targets all aspects of anti-ageing, it prepares the skin for the sun, it encourages a deeper and more even tan and it is your after-sun repair – no wonder it is our customer-favourite!
So if, at the moment, you are waking up with skin flakier than an almond croissant then it's time to embrace this remarkable collection so that you can wake up with impossibly soft limbs, smooth skin and that natural healthy and youthful glow.
How To Use:
Apply AHA Body lotion once a day to the entire body and massage in until absorbed.
Apply one pump of Vitamina Hand Cream to the backs of both hands and massage in until absorbed.  Top up as necessary throughout the day.
Apply Tan Accelerator once a day as your body lotion at least two weeks prior to going on holiday and then every evening as your after-sun. This is not an SPF
The collection is now on offer. Dont miss out on an a massive £50 discount!!! Available here: www.beautyfresh.co.uk/gatineau-summer-saviours-collection