Crystal Clear – The Chopstick Facial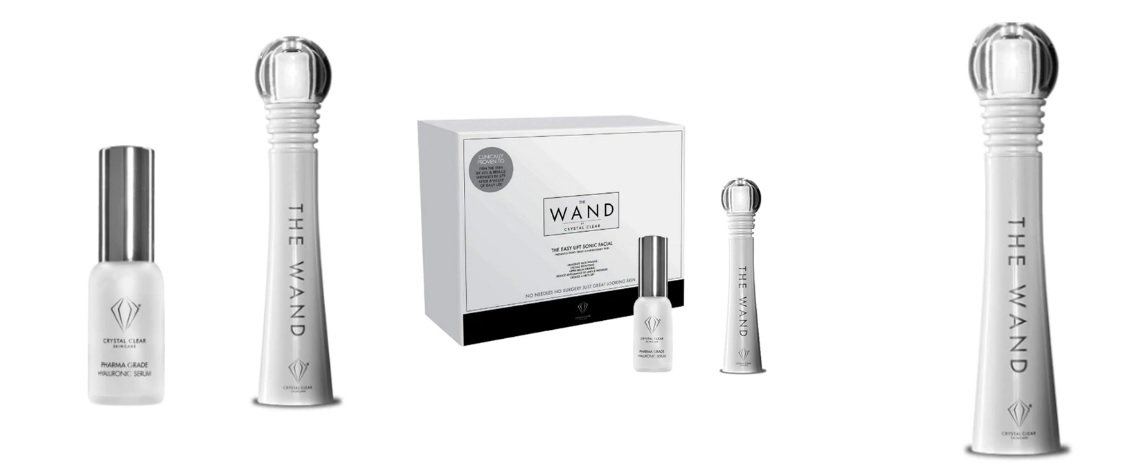 No needles, no surgery, no machines, just great looking skin. Crystal Clear's new Easy Lift Chopstick Facial is the latest skin-transforming treatment that immediately lifts, firms and smoothes the skin minus any intervention other than that of the therapists healing touch, a potent hyaluronic serum and two highly effective massaging WANDS.
• Instant Lift
• Instant Firming
• Instant Camera Ready Skin
• Instant Addiction

A combination of cleansing, exfoliation, facial massage, mask and hydration. The Easy Lift Chopstick Facial gives skin a complete overhaul, lifting, firming and rejuvenating, delivering instantaneous glowing skin. Clinically Proven: Using level one only to reduce lines and wrinkles by 27% and firm the skin by 45% after 8 weeks of daily use.
At last a facial you can perform at home in between salon visits and deliver: –
Instant Eye Lift
Instant Face Firming
Instant Eye bag de-puffing
Instant Plumping and Hydration
Instant Luminosity
Includes two WANDS, Pharma Grade Hyaluronic Serum, plus attachments for the eyes and neck and USB charger. Use it anytime, anywhere… No fussy long instructions to follow, simply roll each WAND up and outwards to provide firmer more lifted skin whilst instantly reducing eye bags and puffiness.
THE TECHNOLOGY
The WAND is powered by sonic vibrations and rolled all over the face to lift and firm the muscles while dispensing the powerful serum from the rollerball head onto the skin to offer instant hydration.
This clever technology offers a double pronged effect; the sonic waves send messages to the nerve ending telling the muscles to lift and firm. Simultaneously, the Pharma Grade Hyaluronic Serum projected from the roller ball acts like a magnet to the skin, providing an instant burst of hydration and moisture-binding power. Low molecular weight Hyaluronic Serum literally infuses moisture while plumping the appearance of lines and wrinkles from the inside out, allowing a fresher, dewier skin to emerge.
The WANDS have two pre-set levels, pressing once for level one this is tailored for around the eyes and pressing a second time for level two for even more firming of the face.
Crystal Clear WAND is the perfect product for all skin types as you don't need to wait until the skin starts to lose laxity, you can use the WAND to create a perfect exercise programme to keep you skin looking it's best at any age.