Introducing NEW Immunity Intelligence
Advanced Nutrition Programme are proud to introduce new Immunity Intelligence. Each box provides 28 days of supplement pods to support the immune system and overall wellbeing of the mind, body and skin. ANP experts have created a supplement to support overall wellbeing. This succinct series of immune-supporting nutrients of vitamins A, B6, B12, C and D, as well as folate, iron, selenium and zinc are united together in daily-pods with five capsules and tablets.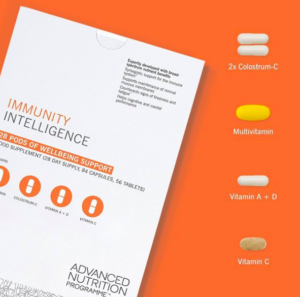 Pristinely packaged in convenient, tear-off packs, each pod features intelligent ingredients to support overall wellbeing of the body, mind and skin to deliver daily:
One dose of Skin Vitality 1:   This multivitamin tablet is packed with over 25 vitamins and minerals including immunity supporting vitamins A, B6, B12, C, D, folate, zinc, iron, selenium as well as plant nutrients including bilberries.
Two doses of Colostrum-C:    3 capsules unite colostrum (the substance produced by mammals in the first hour after giving birth and is rich in antibodies) with vitamin C.
One dose of Skin Vit C:           This tablet fuses vitamin C with citrus bioflavonoids and rosehip to support immune system and skin.
One dose of Skin Vit A+:        This capsule effectively synergises together vitamin A with vitamin D. These multi-tasking ingredients provide support for the immune system, mucous membranes and skin.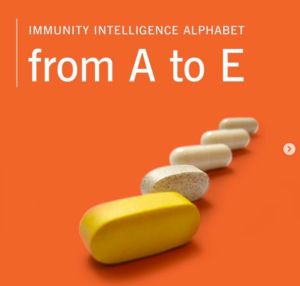 To help support nutrient efficiency, Lorraine Perretta, Head of Nutrition, advises to take the pack with a main meal. "Main nutrients are fat-soluble so it's important to accompany your daily pod with a main meal. Research shows that people who took vitamin D, a fat-soluble vitamin with a main meal absorbed 50% more than those who took the supplement with a smaller meal". Additionally, she also has this important advice on sugar. "Although tempting, try to keep sugar to a minimum. Research shows that glucose can impair the efficiency of the immune system – in fact sugar makes it difficult for the first line of defense of the immune system, our macrophages, to surround and engulf infected cells"
To purchase Advanced Nutrition Programme Immunity Intelligence, please visit Beauty Fresh £56.99 (RRP £63).