What does Crystal Clear magical wand – Lift Away the Years do?
Lift Away The Years has been compiled to help and improve the visible signs of ageing. This kit harnesses revolutionary sonic technology to firm and smooth the skin, whilst giving a gentle, instant lift. The Lift Away the Years wand has been designed to create skin that appears younger, firmer and more toned. In a study with 30 women, consumers reported a 27% reduction in the appearance of fine lines and wrinkles and a 45% increase in skin firmness by using the Lift Away the Years by Crystal Clear.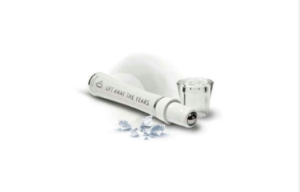 The dual action technology in the Lift Away the Years wand forms the perfect combination in reducing the appearance of ageing skin. The wand uses gentle vibrations to stimulate the muscles in the face while Crystal Clear's Intense Anti Ageing serum is massaged deeply into the skin, working it's way through the applicator head allowing for a better and more even application – helping to diminish wrinkles and fine lines.
Lift Away the Years produces an instant anti-ageing effect. Used morning and night as part of your daily moisturising routine, the results will get better and better.
Intense Anti-Ageing Serum uses three incredible ingredients to do such a great job:
Syn-Ake works in a similar way to Botox to relax the muscles which create wrinkles. But unlike Botox, there are no unwanted side effects or downtime.  The results are the same, lines and wrinkles are smoothed!
Bio-peptide CL is a hero in our eyes. It actively restores the dermal matrix, firming and smoothing skin.
Tourmaline (precious stone extract) helps to give skin a lit-from-within glow. It will really brighten up somebody's day!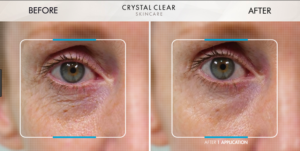 Contents
1 x Lift Away the Years wand (includes 1 x AAA battery)
1 x Intense Anti-Age Serum 30ml
Crystal Clear Lift Away the Years: –
Helps firm and tone lax skin
Reduces the appearance of fine lines and wrinkles
Targets problem areas
Instant results
Quick, convenient and effective
The Lift Away the Years includes: –
1 x Lift Away the Years Wand
1 x AAA battery included
1 x Lift Away the Years instruction leaflet
1 x 30ml Intense Anti-Ageing Serum
Instructions for use
The facial muscles in the skin are prone to deterioration and sagging; they should be exercised and toned in a similar fashion to the body muscles. Get your Lift Away the Years today from Beauty Fresh >> https://www.beautyfresh.co.uk/crystal-clear-lift-away-the-years.html