The Greek island of Chios, apart from its beautiful crystal blue waters and sandy beaches, is also famous for being home to Mastiha trees that produce Crystal Tears, the aromatic, resinous crystal granules that come from slicing the tree's bark. The Crystal Tears which are rare and difficult to cultivate, are collected on specific times of the year by letting the sap flow like slow-motion tears to the ground.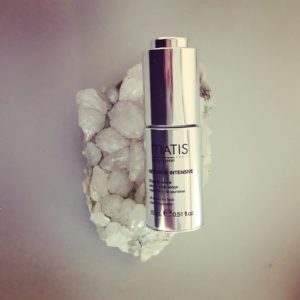 Mastiha (crystal tears) has been historically renowned for its healing qualities with findings showing that it has antimicrobial, anti-fungal and anti-inflammatory action. Mastiha has been harvested for at least 2,500 years since Greek Antiquity. The first mention of mastiha 'tears' was by Hippocrates. Hippocrates used mastiha for the prevention of digestive problems, colds and as a breath freshener.
Crystal Tears are in the heart of the formulation of Matis Reponse Intensive OleaScience, a luxurious oil serum which helps repair damaged skin, reduces wrinkles and restores elasticity to the skin. An extraordinary formulation, with a rich, silky, non-greasy texture that melts pleasantly into the skin. The Crystal Tears boost collagen and fibrillin production by increasing longevity proteins.
OleaScience also contains:
– Inca Inchi seed oils which have the highest Omega 3, 6, 9 and Vitamin E content
– Pomegranate seed oils which are rich in antioxidants (especially flavonoids) and in essential fatty acids
– Jojoba Seed oils rich in linoleic acid
– Rice Bran Seed oils rich in vitamins, minerals and enzymes
The above combination of active ingredients guarantees smoother, radiant, firmer and younger-looking skin.
Now at a reduced cost with Beauty Fresh, shop here: beautyfresh.co.uk/matis-reponse-intensive-oleascience