Crystal Clear
Exfoliators & Polishes
 Exfoliation is key to clear, glowing skin because as we age the dead skin cells become more compact and the body is slower to shed skin cells and generate new ones. When the dead skin cells pole up it can leave the skin looking dull, rough and dry. Furthermore, it can result in excess oil and clogged pores, leading to blemishes and acne. Regular exfoliation allows the removal of that build up and allows better permeability of your moisturiser to be more effective rather than simply sit on the surface.
200ml
Crystal Clear's fabulous, gentle Oxygen Polish is suitable for all skin types, especially problematic and sensitive skin. Containing the active ingredient Oxylastil, which is a known oxygen carrier and has excellent anti-bacterial properties while Jojoba beads gently exfoliate. Used daily, this radiance-restoring exfoliator buffs and smooths leaving the skin polishes, revitalised and rejuvenated.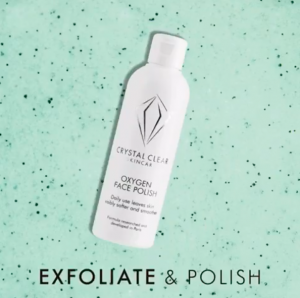 Moisturising complex softens and limits moisture loss and helps cells to retain water while Vitamin E protects the skin. Oxygen polish is an all-round super skin buffer and you will become addicted to the fabulous polished feel to the skin even after the first application.
Radiance-restoring.
Vitamin E protects the skin.
Suitable for all skin types.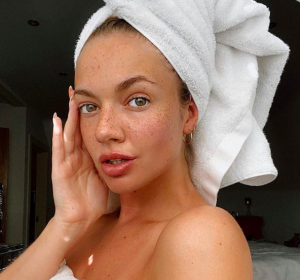 Refine, Smooth and Resurface
Crystal Clear Face & Body Polish includes super exfoliation and polishing actives such as fine micro-crystals from the precious stone Ruby, natural sea salt and acacia honey as it is rich in minerals including zinc, iron, potassium, copper as well as Vitamin C to slough away the build up of dead skin cells while buffing and polishing for a beautiful radiant glow.
Last but not least Crystal Clear have included Matrixyl 3000 as it is hailed the wonder ingredient for its anti-ageing affect and we believe prevention is better than cure. It's no surprise its one of Crystal Clear's best-selling products.
Microdermabrasion In A Bag With Ionic Sonic Super Cleanse
3 simple steps to great looking skin.
 Step 1
Super cleanse with Crystal Clear Ionic Brush and Soothing Cleansing Gel to gently dissolve grease, grime and provide a salon system cleansing effect.
Step 2
Microdermabrasion with Crystal Clear Ionic Brush and Crystal Polish allows dead skin cells to be removed, diminishing the appearance of pores, refining skin texture and improving the absorption of your favourite skincare products.
Step 3
Help increase the effectiveness of moisturising with Skin Repair as the clever brush aids absorption by pulsing the product deeper into the skin.