QuickLift, your 2-in-1 skincare super hero!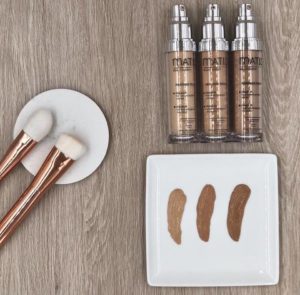 Everyone loves a multi-purpose product. And when it comes to a product that combines anti-ageing action and full coverage, then for sure it's a must-have!
The innovative Matis QuickLift is a foundation with light reflecting pigments that give luminosity to the skin and restore its radiance. They minimise the appearance of any imperfections and unify the complexion.
But QuickLift is much more than a foundation, it's a real beauty serum with two powerful active ingredients that fight against signs of ageing and give the skin a moisturising, smoothing, firming and plumping effect.
Filling of Hyaluronic Acid Spheres is a technology of express smoothing and filling that is based on the use of water-hungry components. Dehydrated, they rehydrate themselves in the skin and then fill-in wrinkles and fine lines. The rehydration allows a change of volume of the hollow of fine lines and wrinkles.
Quick'Lastine is a restorative active ingredient that derives from an extract of dill seeds. This extract stimulates the synthesis of lysyl-oxydase (LOXL), an enzyme that is responsible for rebuilding the elastic network which is affected by ageing and that boosts the synthesis of collagen and elastin.
QuickLift is available in 3 shades – Light, Medium and Dark -and has a beautiful fragrance that combines vanilla, blackcurrant, orange, jasmine and rose notes.  A true 2-in-1, makeup and skincare product for all women who wish to enhance their foundation with efficient anti-aging action.