Activate your skin's collagen!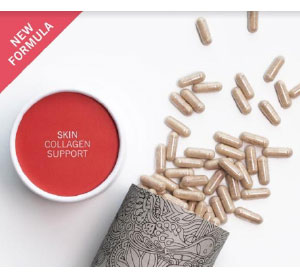 Advances in research propelled the Nutritional and Skin Experts at Advanced Nutrition Programme to update the New Skin Collagen Support supplement for the new decade. Packed with a synergy of skin specialist ingredients, Advanced Nutrition Programme Skin Collagen Support helps to support collagen production* from within for supple, younger-looking skin.
This new supplement brings together the power of five ingredients which have over 155 studies showcasing their effectiveness on skin: Vitamin C, Zinc, MSM, Grapeseed extract and Melon concentrate rich in Superoxide Dimutase (SOD).
By activating the skin from within, this supplement diffuses anti-ageing technology throughout the body.
Dr Clay, Director at Beauty Fresh has been taking Skin Collagen Support. My skin feels smoother, plumper and more youthful looking xx
85% of individuals experienced an increase in elasticity around the crow's feet / eye contour**.