Do you want a new you?
Let's face it, our skin has a tough time protecting us from the environment and we often forget the impact that this can have.
Crystal Clear have been working on a clinically proven breakthrough anti-ageing range specifically to target the ageing effects of mature skin on the neck. Crystal Clear introduced Rewind10 to the world!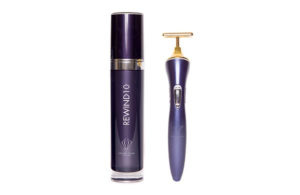 Say goodbye to ageing neck and décolletage.
For most ladies, the ageing process on the neck and décolletage can be a real concern. We listened to you and we found the solution! Crystal Clear Rewind10 Super Sonic Neck Firm & Lift Duo work together to instantly lift, firm and restore the neck and décolletage area.
The powerful formulation is super charged with advanced, clinical level, high-grade active ingredients to target the dramatic effects ageing can have on your neck area. This luxurious, intensive moisturiser works in harmony with the sonic vibrations to deeply penetrate the skin and leaving you with a lifted, firmer, younger looking, neck and décolletage.
Just look at the results!
In clinical trials, Rewind10 Super Sonic Neck Firm & Lift Duo was clinically proven to:
Firm the face by 37%
Firm the neck by 29%
Firm the décolletage by 42%
How do I use it?
It's simple! Use as part of your daily beauty routine morning and night. Apply Crystal Clear Rewind10 Super Charged Face & Neck Moisturiser to the neck and décolletage area and using the Neck Lift wand, massage carefully into these areas, paying particular attention to any problem areas such as under the chin and sagging skin.