Presented in a beautiful white quilted bag, this gift set contains all of the ultimate skincare hero's of Crystal Clear CEO Sharon Hilditch, MBE. This top line-up of skincare goodies has been chosen by our founder and skincare expert to keep your skin looking fresh, smooth, plumped and bright.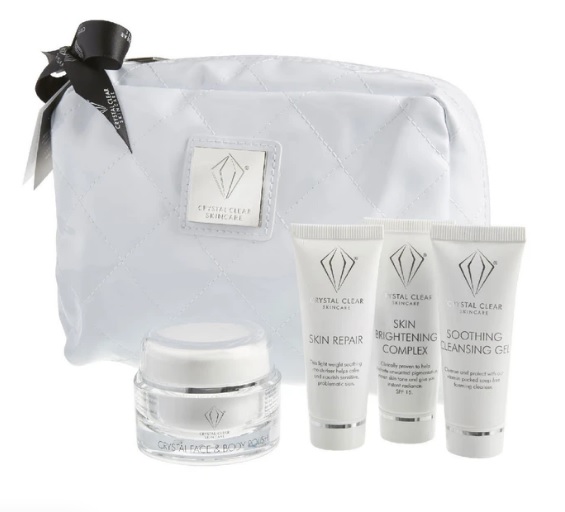 The Sharon's Choice Set Includes: (see here)
•Soothing Cleansing Gel (25ml)
Gentle foaming agents effectively dissolve grease, grime and excess sebum, thoroughly removing even the heaviest make-up. Extremely mild, Soothing Cleansing Gel contains Amino Acids to revitalise and rebalance the skin, Cucumber extract to soothe and moisturise and re-plumping agents and Polycol Moisturising Complex that help prevent moisture loss.
•Skin Repair Serum (25ml)
Helps your skin appear firmer, smoother and more resilient with hydration levels improved. Active ingredients include Vitamin E, anti-ageing agents and Alistin which provides extraordinary anti-oxidative activities. Scientifically proven to reduce wrinkles, in independent clinical trials conducted over a 21 day period, it was proven that Skin Repair Serum reduced wrinkles by a mean depth of 22% and increased skin firmness by 14%
•Skin Brightening Complex (25ml)
SPF15 – Perfect for an older skin as it allows a fresher, more rejuvenated skin tone to appear. Ideal for younger skin suffering from acne outbreaks as it contains anti-inflammatory agents to calm and soothe problematic skin and prevent dark marks of pigmentation appearing. Marine Complex prevents keep skin hydrated with a bio matrix film.
•Crystal Face & Body Polish (25ml)
Born out of our internationally famous microdermabrasion expertise. Fine micro crystals and the precious stone Garnet create a mild microdermabrasion effect, exfoliating and polishing the skin. A combination of essential oils and anti-ageing peptides, Matrixyl 3000 and Acacia Honey, reduces wrinkles and increases elasticity, whilst nourishing the skin, leaving it looking smooth, supple and revitalised.