Universal serum, cells protection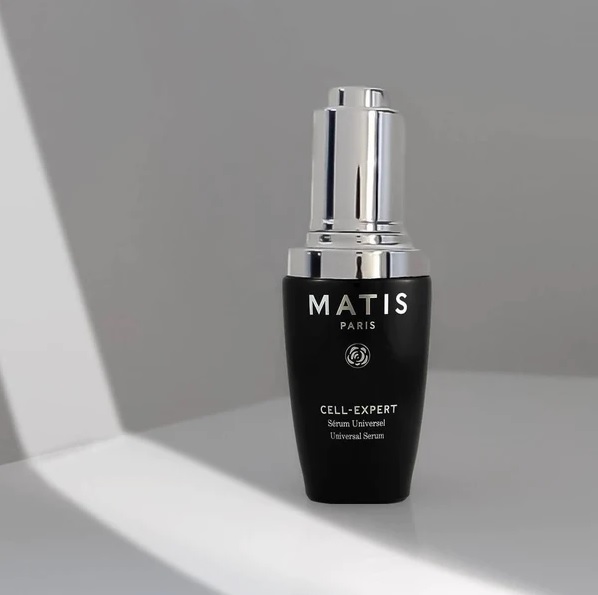 The Matis expertise with its signature products is to use white rose stem cells to protect skin stem cell niches, key to the regular cell renewal mechanism, and to help prolong their ability to initiate the epidermal renewal process.
Protects the skin's capital of stem cells that are responsible for its self-regeneration. The fine, light textures quickly delivers all the benefits of the active ingredients.
At the heart of the formula, rose plant stem cells contribute to a genuine anti-aging effect by slowing down the creation of free radicals. Combined with low molecular weight hyaluronic acid, they also foster the smoothing out of wrinkles. A keratolytic active ingredient completes the formula, and improves the general appearance of the skin by erasing blemishes and unevenness. Immediately, the complexion is revived and wrinkles are diminished. Every day, the skin is more beautiful.
A new formula that perfectly combines sensory pleasure and effectiveness, with a new preservative system, a fragrance without allergen but still very efficient.
MatiStem CC complex
White rose stem cell extract contributes to the protection of the environment of the epidermal stem cells, anti-oxidant, it slows down the creation of free radicals, anti-aging, oxygenating, revives the respiration and metabolism of the skin, against dullness.
Stem cell guardian, a peptide derived from peas, maintains the phenotype of keratinocyte stem cells by increasing their potential for self-renewal, adhesion and protection. The protected keratinocyte stem cells function optimally and contribute to the daily renewal of the skin.
Hyaluronic Acid
Hyaluronic acid is a glycosaminoglycan naturally present in the skin which provides a filling and hydration role. The HA present here is a high molecular weight HA for a deep hydrating action.
A 30ml dropper available at Beauty Fresh.